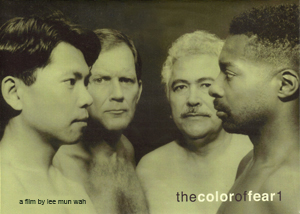 The Color of Fear (Part One)
PAY PER VIEW Streaming Option
(24-hour rental)
The Color of Fear is an insightful, groundbreaking film about the state of race relations in America as seen through the eyes of eight North American men of Asian, European, Latino and African descent. In a series of intelligent, emotional and dramatic confrontations the men reveal the pain and scars that racism has caused them. What emerges is a deeper sense of understanding and trust. This is the dialogue most of us fear, but hope will happen sometime in our lifetime. (1994, 90 minutes)  To purchase this film in DVD format, please visit the StirFry Seminars Store.
Pay-per-view makes a link to this online film (mp4 format) available to you for 24 hours after purchase. You will not be able to download the film for use after the 24 hour period. The link will be emailed to you upon successful payment. Please note that this is for streamed film viewing; to purchase the film as a digital video disc, please visit the StirFry Seminars Store.

$12  
Note:  This product is a streaming video rental, good for 24 hours. This product is NOT a disc copy of this film.